Spring 2018 Beta Outreaches
Written by Deanna Smoker
Timberline Church on March 25, 2018
Team Beta got the chance to go present for the 
Sunday
 morning service at Timberline Church. They presented two mimes for both services. Then they joined their 
Sunday
 School and taught the kids some technique and a mime, which went really well. After that they hung out and talked with the kids.
Conestoga View Nursing Home on April 8, 2018
Beta arrived at Conestoga nursing home and went inside to get ready to present their mimes. But they were told that they could not be there because the residents had the flu! The team was not quite sure what to do, so they went to a friend's house that was close by. The staff at Conestoga said they would call back in the next half hour to see if they could work something out, and sure enough, they did! Beta went back to the nursing home and presented, but they had no physical audience. Instead, they were broadcast to the TVs in the residents' rooms.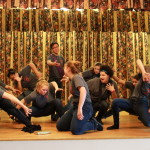 Real Life Teen Ministry on April 17, 2018
At Real Life teen ministry, Beta got there in time to eat dinner with the teens. Then they put on paint and presented six mimes. Afterwards, they were able to teach some mime technique, and they really enjoyed that. Even though they could not talk to the teens, Beta got to interact with them and got to know them.