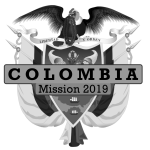 Hello Friends!
DRAMA is heading back to Bogota, Colombia again and our team is raising support!
DRAMA Ministry (www.dramateam.org) is a local Christian youth discipleship ministry that uses mime to present the Gospel. This winter from February 2 through 15, 2019, we are leading a team to Bogota, Colombia to partner with Children's Vision International Inc. (www.childrensvision.org). CVII takes abandoned, abused, and high-risk infants and small children from the street to provide twenty-four hour a day, seven days a week care. This includes a home, food, clothing, education, recreation, and full medical attention.
The trip starts on February 2, when we will begin training and we hope to arrive in Colombia and start ministry by February 4. From there our base of operations will be Children's Vision's guest house in the city of Bogota. We will be working primarily right in CVII's homes and school with the children and youth who live there. DRAMA has helped the CVII children to start their own discipleship team in the past which has since grown done mission work of its own. This trip will focus on strengthening and equipping them for ministry further ministry and training new members that are ready join. Along with training and outreach opportunities alongside the local team, our team will also help with work projects around the CVII property including construction projects underway to expand their ministry capacity.
For this trip to happen our team needs to raise some money and will need a lot of prayer cover. Each member is striving to raise $1,300 toward their travel expenses. Any extra one raises will help ensure the whole team reaches its goal. There is information for giving at the bottom of this letter.
Prayer is even more essential than funds in an undertaking of this nature. We covet prayers for our team the work being done throughout the trip. There will be so many opportunities for the Gospel to go out or for things to go wrong that we know it is absolutely vital that the heart and hand of God be sought on our behalf. So this e-mail/blog post is meant to invite you to partner with us in finance and in prayer for the Colombia 2019 Trip. If you're reading this in an e-mail form sent from DRAMA, then you are already setup to get updates while we travel – please use them as reminders to pray. If you want to be added to our list – just e-mail tim@dramateam.org and we'll get you setup.
If you would like to support the team financially you can send a check written out to DRAMA Ministry to the address below. Please include a note mentioning which team member you intended to support:
DRAMA Ministry, 241 Blimline Rd. Mohnton Pa. 19540
You can also donate online by clicking on any of the images below:
(If the images aren't displaying, click here)