On Saturday, September 30th DRAMA's team Alpha went to God's Clear View Ministries.  This outreach was an all day work day and God blessed us with a nice day for it.
We meet around 6:30am and headed out.
When we arrived Carlos and Migdalia (the directors of the ministry) took us on a short tour of the building and showed us some recent renovations as well as some rooms that still need a lot of work but have come a long way since they acquired the building.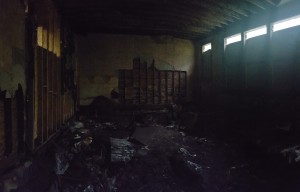 After the tour we split up into groups to accomplish the work they had for us to do. Three of us were inside changing out summer clothes with winter clothes in the Blessing Shop ( a place where people can get free clothes), washing down the trim, and mopping.
The rest of us were working outside mulching, cleaning up some trash and siding, planting flowers, and filling a hole in the blacktop with gravel.
Migdalia made an amazing lunch for us and they also provided breakfast food and drink us.
We had a really great day and were thankful for the opportunity we had to serve Carlos and Migdalia.
To God be the Glory!